United States Fantasy Football Alliance (USFFA, est. 2001 as SEMFFL)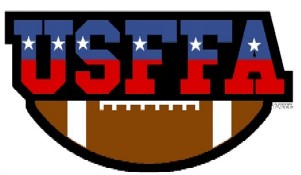 This website will be used for items pertaining to the USFFA, a league that was started by Mike Brinker & myself in 2001 as the Southeast Minnesota Fantasy Football League (SEMFFL). We finished the league's 21st season in December 2021. We've used Sideline Software's myfantasyleague.com from 2002 to now to run our league. Our league grew from 12 teams (at the start in 2001) to the present 40 teams we are now (since 2009). I have been a commissioner for over 20 seasons so if you find this page and would like advice in starting a league of your own, please feel free to contact me at the address near the bottom of this page.

Special thanks to following people for the helmet graphics that the league uses: myfantasyleague.com, Bill Jones, Mike Gardner & Noah Retka. Also special thanks to my past & present graphics mentors, Noah Retka & Ruthann Sudman. Their graphics can be found on the active, inactive & throwback pages. Thanks and enjoy our site!
Page edited by Doug Clymer, league commissioner of the USFFA (2001-present)
This page will be contain various reports pertaining to the 2001 through 2021 USFFA/SEMFFL seasons and will be used to hold documents made that may not be available on CBS Sportsline or MFL.com or to link to those that are available. Thanks.---Doug





USFFA League Commissioner: Doug Clymer

USFFA Acting American Conf Commissioner: Doug Clymer

USFFA National Conf Commissioner: John Woollard

USFFA Federal Conf Commissioner: Kris Liedtke

USFFA Acting United Conf Commissioner: Doug Clymer





2021 League Champion

The Gamblers (Jan Deering & Kris Liedtke, owners)




2021 2nd Chance Tourney Champion

Webheads (Jeff Nelson, owner)




2021 Last Chance Tourney Champion

Untouchables (Brian Chihak, owner)






Items/Reports covering multiple seasons including the 2021 season




(NEW) Champions Listing 2001-2020




(NEW) League Champions 2001-2020




(NEW) Fantasy Bowl Participants 2001-2020




(NEW) 2CT Champions 2002-2020




(NEW) LCT Champions 2009-2020




(NEW) Top Teams of Postseason 2001-2020




Trophies Used by USFFA




SEMFFL/USFFA Logos used from 2001 to 2020




(NEW) USFFA American Conference Helmets for 2021 season




(NEW) USFFA National Conference Helmets for 2021 season




(NEW) USFFA Federal Conference Helmets for 2021 season




(NEW) USFFA United Conference Helmets for 2021 season




(NEW) USFFA Active Owner Profiles for 2020




USFFA Inactive Owner Profiles 2001-2019




(NEW) USFFA Non-Conference All Time Reg Season Records 2001-2020




(NEW) SEMFFL-USFFA Owner Awards 2002-2020




(NEW) SEMFFL-USFFA Championship Game (FB/2CT) Stats




(NEW) History of the USFFA 2011-2020




(NEW) USFFA All Time Records for 2020 Active Teams




Items/Reports covering multiple seasons not including the 2021 season




(NEW) USFFA All Pro Teams 2011-2020




(NEW) USFFA Weekly Winners 2011-2020




(NEW) USFFA Strength of Schedule 2011-2020




History of the USFFA 2001-2010




SEMFFL-USFFA All Pro Teams 2002-2010




SEMFFL-USFFA Weekly Winners List 2001-2010




SEMFFL-USFFA Strength of Schedule 2003-2010




(NEW) V2019 USFFA Rules






2021 Season




(COMING SOON) Final Win-Loss Records (after '21 season)




(NEW) Rosters (after '21 season)




(COMING SOON) Team Schedules with Results (after '20 season)




AC Draft 2021 results




NC Draft 2021 results




FC Draft 2021 results




UC Draft 2021 results






2020 Season




(NEW) Final Win-Loss Records (after '20 season)




(NEW) Rosters (after '20 season)




(NEW) Team Schedules with Results (after '20 season)




AC Draft 2020 results




NC Draft 2020 results




FC Draft 2020 results




UC Draft 2020 results






2019 Season




(NEW) Final Win-Loss Records (after '19 season)




(NEW) Rosters (after '19 season)




(NEW) Team Schedules with Results (after '19 season)




AC Draft '19 results




NC Draft '19 results




FC Draft '19 results




UC Draft '19 results






2018 Season




'18 End of Season Meeting




(NEW) Final Win-Loss Records (after '18 season)




(NEW) Rosters (after '18 season)




(NEW) Team Schedules with Results (after '18 season)




AC Draft '18 results




NC Draft '18 results




FC Draft '18 results




UC Draft '18 results






2017 Season




'17 End of Season Meeting




Final Win-Loss Records (after '17 season)




Rosters (after '17 season)




Team Schedules with Results (after '17 season)




AC Draft '17 results




NC Draft '17 results




FC Draft '17 results




UC Draft '17 results






2016 Season




2016 End of Season Meeting




Final Win-Loss Records (after 2016 season)




2016 USFFA End of Season Rosters




2016 Team Schedules with Results (after season)




2016 AC Draft results




2016 NC Draft results




2016 FC Draft results




2016 UC Draft results






2015 Season




2015 End of Season Meeting




Final Win-Loss Records (after 2015 season)




2015 USFFA End of Season Rosters




2015 Team Schedules with Results (after season)




2015 AC Draft results




2015 NC Draft results




2015 FC Draft results




2015 UC Draft results







2014 Season




Final Win-Loss Records (after 2014 season)




2014 USFFA End of Season Rosters




2014 Team Schedules with Results (after season)




2014 AC Draft results




2014 NC Draft results




2014 FC Draft results




2014 UC Draft results






2013 Season




2013 End of Season Meeting




Final Win-Loss Records (after 2013 season)




2013 USFFA End of Season Rosters




2013 Team Schedules with Results (after 2013 season)




2013 AC Draft results




2013 NC Draft results




2013 FC Draft results




2013 UC Draft results







2012 Season




2012 Final Win-Loss Records




2012 USFFA End of Season Rosters




2012 Team Schedules with Results




2012 AC Draft results




2012 NC Draft results




2012 FC Draft results




2012 UC Draft results






2011 Season




2011 Final Win-Loss Records




2011 USFFA End of Season Rosters




2011 Team Schedules with Results




2011 AC Draft results




2011 NC Draft results




2011 FC Draft results




2011 UC Draft results






2010 Season




2010 End of Season Meeting




2010 Final Win-Loss Records




2010 USFFA End of Season Rosters




2010 Team Schedules with Results






2009 Season




2009 End of Season Meeting




2009 Final Win-Loss Records




2009 USFFA End of Season Rosters




2009 Team Schedules with Results






2008 Season




2008 End of Season Meeting




2008 Final Win-Loss Records




2008 2CT 1st rd game results




2008 USFFA End of Season Rosters




2008 Team Schedules with Results






2007 Season




2007 End of Season Meeting




2007 Final Win-Loss Records




2007 USFFA End of Season Rosters




2007 Team Schedules with Results






2006 Season




2006 End of Season Meeting




2006 Final Win-Loss Records




2006 End of Season Rosters for whole league




2006 Team Schedules with Results






2005 Season




2005 End of Season Meeting Pix Pg 1




2005 Final Win-Loss Records by team




2005 End of Season Rosters for whole league




2005 Team Schedules with Results






2004 Season




2004 End of Season Meeting Pix




2004 Final Win-Loss Records by team




2004 Team Schedules with Results






2003 Season




2003 End of Season Meeting Pix




2003 Final Win-Loss Records by team




2003 Team Schedules with Results






2002 Season




2002 Final Win-Loss Records by team




2002 Team Schedules with Results






2001 Season




2001 Final Win-Loss Records by team




2001 Team Schedules with Results






SFL Tribute




Teams of the SFL's Tenth Season




SFL League/Other Franchise Helmets




SFL game explanation




SFL History-All Seasons




SFL HOF members




Team Summary of All Teams




Thoughts from the 3 SFL commissioners








LINKS TO OTHER FOOTBALL RELATED SITES ON THE WWW




MyFantasyLeague.com (Home of the USFFA since 2002)




Fame Awards (Awards supplier for the USFFA)




NFL.com (Home of the NFL on the web)





2021 usffacommissioner@zohomail.com